50 Shades of Impact: Is Impact Through Investment Real or Illusory?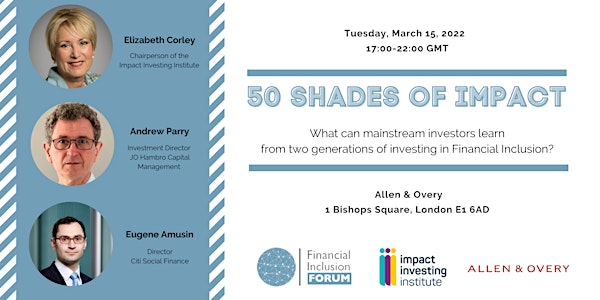 15th March 2022 - Exciting discussions about impact investing led by experts and suitable for all, followed by networking and drinks!
About this event
Impact investing continues to grow rapidly with the market size estimated to be about $715 billion. Investing in Financial Inclusion (with its roots in microcredit) is one of the earliest modern forms of what is now known as Impact Investment. But is it possible to contribute to society through investment whilst also making financial returns? Even if it is possible, how much positive impact can and does the impact investor have, and is it sustainable? Does impact need to be intentional and can it be measured? Recognising the complexity and nuance in Impact Investment is a critical step in the journey to becoming an effective Impact Investor.
Come to the Financial Inclusion Forum's action-packed event to get answers to all these questions and more! We can't wait to see you there!
This event will be held in a fantastic space offered by Allen & Overy.
Agenda
5:00 - 5:10 Introduction: Remarks from Paul Blyth, Chair, Financial Inclusion Forum
5:10 - 5:50 Fireside Chat: Elizabeth Corley, Chairperson of the Impact Investing Institute, will provide insights on "The Big Picture" of impact investing.
5:50 – 7:00 Breakout Sessions on How to Invest for Impact in Every Mainstream Asset Class: Experts from JO Hambro, MainStreet Partners, Oikocredit, and Citi will lead breakout sessions that provide deep dives into strategies and challenges covering key sectors, instruments, and investment vehicles. Sessions will include public equity, fixed income, private debt, and private equity.
7:00 – 8:20 Elephant in the Room: Is Impact Real and Can it be Measured?: This dynamic session will explore lessons learned from two generations of impact investing in financial inclusion and what mainstream investment can learn from impact experts. Industry leaders will discuss the pros and cons of measurement/ impact assessment/ RCTs, KPIs and discuss best practices and what has not worked in the past. It will also help investors comprehend the impact they can have - what is real and what is illusory?
8:20 – 8:30 Wrap-up
8:30-10:00 Networking drinks
We hope that guests will leave the event with a better understanding of the challenges and opportunities in Impact Investing, and be well placed to engage in this crucially important area.
New to Impact Investing? Join us for a pre-event Impact Investing Bootcamp from 3:00 – 4:30 pm. This special session, led by Sophia Omar and Shadi Brazell of the Impact Investing Institute, will cover key definitions, the state of the market, key market players, recent trends, and more.
Event Properties
| | |
| --- | --- |
| Event Date | 15-03-2022 3:00 pm |
| Event End Date | 15-03-2022 10:00 pm |
| Individual Price | Free |
| Location | Allen & Overy |